AUTUMN RUSTIC SLATE STONE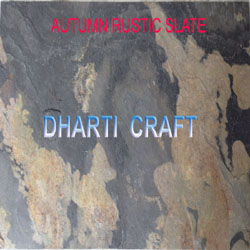 Autumn Rustic slate stone tile is also a slate obtained from the same quarry as Indian Autumn however its color is a little different from the regular Indian Autumn Rustic slate stone tile. Indian Autumn Rustic slate has a dark gray base with beige & occasional rust markings on it.
Indian Autumn Rustic slate stone feels smooth to the touch but has a visually pleasing texture. Indian Autumn Rustic slate is largely used for interiors & exterior wall claddings. Indian Autumn Rustic Slate used for flooring is as it is quarried from the earth - chemical free and therefore allergy free. Best of all - it won't burn! Slate has become the building product of choice in fire prone areas because it is non-combustible and free of nasty odors. Slate is a timeless flooring material that is undergoing resurgence in popularity because of the vivid colors & texture it exhibits along with its excellent thermal resistance and durability.
DHARTI CRAFT, INDIA Exporter & Supplier of  Autumn Rustic Slate stone Tile, Natural slate tile, slate wall tiles, natural slate floor tiles. We recommend to seal the tiles with good sealer for long life and maintenance free.
Protection, durability and beauty are just a few of the features of slate. Being a good conductor of heat slate is ideal in any area. Autumn Rustic slate is best suited for exterior and areas near fire places etc. The rustic look of the stone gives a very charming ancient look to the area.  We always recommend a tile according to the theme of the home decor, building or area.  We have lot of collection in slate, Quartzite, Sandstone, Limestone, Marble, Granite, Semi precious stone, Mosaics wall panels, ledge stones, cobbles, pebbles, garden stones like water fountain, bird bath, stone vases, stone articles etc.
Looking for more slate colors. Visit our Stone Gallery or Contact us.
Specifications
Classification
Slate-Origin-India
Quarry Deposit
Layered
Quarry Excavation
Hand split layers
Chisel Splitting
Possible
Gangsaw Sawing
Not possible
Offered In
Tiles, Slabs, cut to size
 
Both faces natural
 

1)One face natural, other Calibrated

2)One face Honed - other face Calibrated.

Tailer Made Specifications
Possible
Carved Articles
Not possible
Recommended Applications
Interior and exterior
Suitability
Medium to Low Traffic
Consistency
Multicolor
Fragility
Sound
Delivery
4 weeks