Bell Flower Granite
BELL FLOWER GRANITE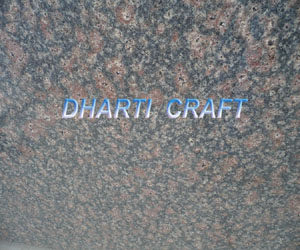 Bell Flower Granite is also known as Bala Flower in stone trade. Bell Flower is a granite showing beautiful flower patterns largely in red, pink & green. It is a consistent colored granite with excellent polish finish.  Bell flower Granite is a hard granite, Scratch free and resistant to heat. The color, characteristics of Bell flower granite is the buyers choice for Kitchen counter tops, interior and exterior designs, wall stone , flooring tiles etc.  
Bala Flower is a Red pink grey flowery Granite Origin of Rajasthan State of India. Apart from flooring, Kitchen Counters, it is popularly used for Steps and Riser and various interior and exterior applications.
Bala Flower Granite provides for such places an excellent surface that is naturally durable and easy to clean along-with providing uncompromising beauty and elegance to the kitchen.
DHARTI CRAFT, INDIA is an Exporter Supplier of Bala flower Granite Slabs & Tiles, Bell Flower Slabs, Bell Flower Tiles, Bell Flower Small Slabs cutter slabs, Bala Flower Granite Big Slabs 300x200 from India. Indian Bala Flower Granite.
Contact us for your requirement of North Indian Granite Slabs tiles steps. Click here.
Specifications of Bell Flower Granite
Classification
Granite
Offered in
Block, Slabs & Tiles
Finishes 
Polished, Honed, Leather/Satin, flamed/fired, Shotblast
Standard Specifications
Random Slabs of 18mm, 20mm and 30mm Thick.
 

Polished, Calibrated & Beveled Tiles of 10mm Thickness.

305x305x10mm

610x305x10mm

400x400x12mm

 

Cut to Size Tiles 18mm, 20mm and 30mm thick.

300x300 / 300x600 / 600x600mm.

Tailor-Made Specifications
Possible
Recommended Applications
Interior & Exterior
Delivery
 4 weeks
Technical information Bell flower granite
Technical ASTM Data Bell Flower Granite
Technical Information
Value
ASTM/ INDIAN Standards
Water absorption, % by weight
0.15
C-97
Density (Bulk specific gravity)
2.65
C-97
Modulus of rupture, N/ mm2

Dry-11

Wet-15

C-99
Compressive Strength N/ mm2
Dry - 117
Wet - 100
C-170