DARK BROWN SANDSTONE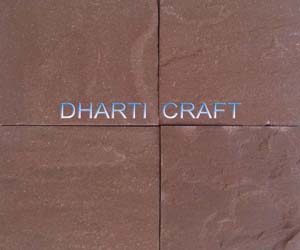 Dark Brown Sandstone, Mandana Brown or Mandana Red sandstone. The floors are extremely versatile and tough thus gives strong flooring experience. The best part of these tiles is that they are robust in nature so they can be used for flooring both inside area and outside area. Dark  Brown sandstone is not only durable but is beautiful to watch. One can get this flooring / paving done in their home, on terrace or outside area of the house like gardening area, pathways or pool side with different finishes like Natural cleft for exterior and polished or honed for interior.
Applications:-
Mandana Red sandstone is extensively used as flooring stones, tile paving, cobble paving for driveways as well as for panelling purposes.  This stone is highly resistant to acids, alkalis and salinity and it provides resistance to thermal variance also and is therefore suitable for construction of building near seashore or as a flooring material and wall facing in chemical industries due to its acid and alkali resistant properties.
Characterstics:-
Mandana Brown or Red Sandstone became popular material due to its durability, strength and beauty. This stone is used as the sole building stone in paving. Mandana Brown Sandstone is available in various finishes such as natural cleft, flamed, polished, honed, flammed sawn, acid washed, antique finish and sand blasted to suit different applications. The edge finish is available in machine cut sawn, hand dressed and chamfered.
Applications:-Construction and decoration of building interior and exterior.
Origin:- Mandana Brown or Red sandstone is origin of India.
What are the finishes available in Mandana Brown or Red  Sandstone:-
Mandana Red  sandstone is available in Natural cleft 22mm calibrated, polished finish, Shot blasted finish, Tumbled finish, flamed and Brushed finish.
Mandana Red or Chocolate Sandstone  is a dark brown colored extremely hard sandstone because of the quartz grains being cemented together with silica and calcite. This is hard wearing sandstone. The colors of this sandstone are very consistent however still for very discerning customers we sort the shades and make lots. Mandana Brown Sandstone owing to the natural Brown shade and because of the inherent properties of sandstone, this stone is extremely popular in the construction of paving, huge landscaping projects, window sills, lintels, kerb etc. Mandana Brown Sandstone is also used for wall cladding and in other interior applications
DHARTI CRAFT -  We are exporters, suppliers of Mandana Red, Brown Sandstone, brown pavers, indian sandstone paving, brown paving slabs, brown patio slabs origin of India.
Reach us for your requirements. Click here.
Specifications

Classification
Indian Sandstone
Quarry Deposit
Compact
Quarry Excavation
Block
Chisel Splitting
Not Possible
Gang Saw Sawing
Possible
Offered in
Blocks, Slabs & Tiles
Finishes Offered
Natural, Polished, flammed & Shotblast
Standard Specifications

Random Slabs 2cm and 3cm thick

Size 200x 60cm plus

 

Cut to size tiles 22mm Calibrated
29 x 29 / 60 x 29 /60 x 60 / 60 x 90cm

Custom size also available.

Tailor-Made Specifications
Possible
Carved Articles
Possible
Recommended Applications
Interiors & Exteriors
Suitability
Medium to heavy Traffic.
Consistency
Fair
Fragility
Sound
Delivery
4 to 6 weeks