Cheema Pink Granite
CHEEMA PINK GRANITE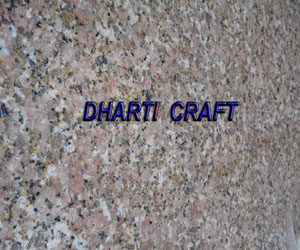 Cheema Pink Granite is obtained in beautiful floral patterns in light pink, white and grey having an overall pink base. It being a light colored & consistent material it is extensively used all over the country for in-numerous applications such as kitchen counter top, back splash area, wall claddings, Floorings, fireplace, cobbles and many more. Pink being the color of Romance, Cheema Pink Granit creates that in your life with an unparalleled grandeur and unimaginable beauty. Chima Pink Granite worktops have become in choice for a kitchen counter or work surface. These kitchen counters are attractive and come in a wide variety of designs with affordability being prime in comparison to most of the other colors. Cheema Pink Granit counter tops are extremely hard and durable and highly stain, scratch and heat resistant.
Chima Pink Granite is a beautiful pink flower granite to be used as flooring tiles, Steps and Risers, Wall tiles, Kitchen counter top or various interior and exterior decorations.
Cheema Pink Granite is origin of Rajasthan State of India.
DHARTI CRAFT, INDIA is an Exporter Supplier of Cheema Pink Granit Slabs & Tiles, Cheema Pink Slabs, Cheema Pink Tiles, Cheema Pink 10mm Calibrated Beveled Tiles, Cheema Pink Small Slabs,  Indian Cheema Pink Granite.
You should contact us for your requirement of Indian Granite Slabs tiles steps etc. Click here.
Specifications of Cheema Pink Granite
Classification
Granite
Offered in
Block, Slabs & Tiles
Finishes 
Polished, Honed, Leather/Satin, flamed/fired, Shotblast
Standard Specifications
Random Slabs of 18mm, 20mm and 30mm Thick.
 

Polished, Calibrated & Beveled Tiles of 10mm Thickness.

305x305x10mm

610x305x10mm

400x400x12mm

 

Cut to Size Tiles 18mm, 20mm and 30mm thick.

300x300 / 300x600 / 600x600mm.

Tailor-Made Specifications
Possible
Recommended Applications
Interior & Exterior
Delivery
 4 weeks
Technical ASTM Data Cheema Pink Granite
Technical Information
Value
ASTM/ INDIAN Standards
Water absorption, % by weight
0.15
C-97
Density (Bulk specific gravity)
2.65
C-97
Modulus of rupture, N/ mm2

Dry-11

Wet-15

C-99
Compressive Strength N/ mm2
Dry - 117
Wet - 100
C-170