Colonial White Granite
COLONIAL WHITE GRANITE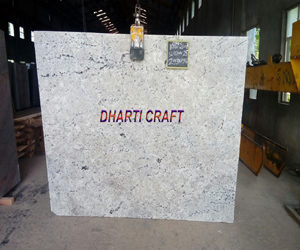 Colonial White granite is one of the exceptional types of granite that truly fits to your kitchen improvement. Colonial White granite is a nice choice with a White back ground and black swirls tones and not too much movement in the stone - in other words not too busy. Colonial White can change a lot from bundle to bundle. Unlike other stones and types, the colonial  granite totally promotes clean and stylish appearances. With its perfect feature, no doubt why most homeowners prefer to have this.
The colonial White granite can also withstand any elements, making it more effective and sturdy. This exceptional granite color is used not only for home but business improvement as well. With colonial White granite, you can easily maintain an excellent feature of your bathroom or kitchen worktops. In just a single wipe, its perfect and stylish appearances can be easily viewed.
DHARTI CRAFT, INDIA is an Exporter Supplier of Colonial White  Slabs & Tiles, Colonial White Slabs, Colonial White Tiles, Small Slabs, Colonial White Big Slabs 300x200 from India. Indian Colonial White.
Please write us or contact us for your requirements. Click here.
Specifications
Specifications of Colonial White Granite
Classification
Granite
Offered in
Block, Slabs & Tiles
Finishes 
Polished, Honed, Leather/Satin, flamed/fired, Shotblast
Standard Specifications
Random Slabs of 18mm, 20mm and 30mm Thick.
 

Polished, Calibrated & Beveled Tiles of 10mm Thickness.

305x305x10mm

610x305x10mm

400x400x12mm

 

Cut to Size Tiles 18mm, 20mm and 30mm thick.

300x300 / 300x600 / 600x600mm.

Tailor-Made Specifications
Possible
Recommended Applications
Interior & Exterior
Delivery
 4 weeks
Technical data INDIAN STANDARDS
Technical Specification Data of Colonial White

| | |
| --- | --- |
| Compressive Strength | 2350 Kg/cm2 |
| Comp. Strength after Gelivity | 2600 Kg/cm2 |
| Ultimate Tensile Strength | 274 Kg/cm2 |
| Coeff. Thermal expansion | 0.0045mm/mcº |
| Water Absorption | 0.15% |
| Impact Test-Min Fall Height | 68cm |
| Specific Gravity | 2.65 Kg/m3 |
| Hardness (Moh's Scale) | 5.0 |
Technical ASTM Data
Technical Information
Value
ASTM/ INDIAN Standards
Water absorption, % by weight
0.15
C-97
Density (Bulk specific gravity)
2.65
C-97
Modulus of rupture, N/ mm2

Dry-11

Wet-15

C-99
Compressive Strength N/ mm2
Dry - 117
Wet - 100
C-170