Copper Silk Granite
COPPER SILK GRANITE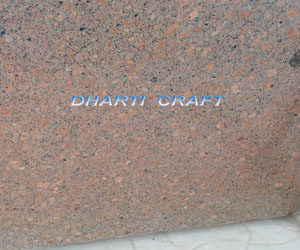 Copper Silk Granite is an exclusive beige color base having bands or flowers of brown and pink with tiny black dots. Copper Silk slabs are extensively used to give a rich and a luxurious appeal to any interior and exterior of the buildings.  Copper Silk granit tiles can be used effectively on walls and floors in both interior and exterior architecture. Copper Silk Granit is a hard Granite and are ideal for use in high traffic areas of the home, as well as areas where resistance to staining is important. Copper Silk Granit kitchen counters are attractive and come in a wide variety of designs & are also affordable in comparison to other granite colors. Copper Silk Granit counter tops are extremely hard and durable and highly stain, scratch and heat resistant.
Copper Silk is a Beige base granite with Red Pink flower and this exclusive Granite is Origin of Rajasthan State in India. Apart from flooring, Kitchen Counters, it is popularly used for Steps and Riser and various interior and exterior applications.
DHARTI CRAFT, INDIA is an Exporter Supplier of Copper Silk Granit Slabs & Tiles, Copper Silk Slabs, Copper Silk Tiles, Copper Silk 10mm Calibrated Beveled Tiles, Copper Silk Small Slabs, Copper Silk Big Slabs 300x200 from India. Indian Copper Silk Granit.
Reach us for your requirement of Copper Silk Slabs tiles steps etc. Click here.
Specifications of Copper Silk Granite
Classification
Granite
Offered in
Block, Slabs & Tiles
Finishes 
Polished, Honed, Leather/Satin, flamed/fired, Shotblast
Standard Specifications
Random Slabs of 18mm, 20mm and 30mm Thick.
 

Polished, Calibrated & Beveled Tiles of 10mm Thickness.

305x305x10mm

610x305x10mm

400x400x12mm

 

Cut to Size Tiles 18mm, 20mm and 30mm thick.

300x300 / 300x600 / 600x600mm.

Tailor-Made Specifications
Possible
Recommended Applications
Interior & Exterior
Delivery
 4 weeks
Technical ASTM Data Copper Silk Granite
Technical Information
Value
ASTM/ INDIAN Standards
Water absorption, % by weight
0.13
C-97
Density (Bulk specific gravity)
2.65
C-97
Modulus of rupture, N/ mm2

Dry-11

Wet-15

C-99
Compressive Strength N/ mm2
Dry - 117
Wet - 100
C-170