Desert Brown Granite
DESERT BROWN GRANITE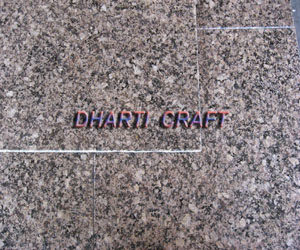 Desert Brown Granite is homogeneous granite composed mainly of intense  brown crystals and a smaller amount of black crystals. It is largely consistent in color.
Desert Brown Granite worktops have become an in demand choice for a kitchen counter or work surface. These kitchen counters are not only attractive and come in a wide variety of designs & are affordable in comparison to other granite colors. Desert Brown is easy to blend with other house and kitchen decor, so you won't have a problem changing your current kitchen motif if you are planning to install a Desert Brown granite solid worktop. It will bring a touch of exquisiteness to your kitchen and it could last a lifetime if properly cared for.
Brown Granite will definitely make a great solid surface whether used as a tile or a worktop since sharp edged materials will not go through it and stains are easily taken off making it very resistive to damage.
DHARTI CRAFT, INDIA is an Exporter Supplier of Desert Brown Slabs & Tiles, Desert Brown Slabs, Desert Brown Tiles, Desert Brown 10mm Calibrated Beveled Tiles, Desert Brown Small Slabs, Desert Brown Big Slabs 300x200 from India. Indian Brown Granite Desert Brown . Desert Brown is also available in flamed / fired Cobbles apart from its exclusive Polished finish.
Buy Desert Brown Granite from us, we assure best price Desert Brown Granite from India. Desert Brown Granite Kitchen is always recommended if you want to install brown granite in your kitchen with white cabinets.
Also visit Mari Gold Granite.
Specifications of  Desert Brown Granite
Classification
Granite
Offered in
Block, Slabs & Tiles
Finishes 
Polished, Honed, Leather/Satin, flamed/fired, Shotblast
Standard Specifications
Random Slabs of 18mm, 20mm and 30mm Thick.
 

Polished, Calibrated & Beveled Tiles of 10mm Thickness.

305x305x10mm

610x305x10mm

400x400x12mm

 

Cut to Size Tiles 18mm, 20mm and 30mm thick.

300x300 / 300x600 / 600x600mm.

Tailor-Made Specifications
Possible
Recommended Applications
Interior & Exterior
Delivery
 4 weeks
Desert Brown Granite Technical Specifications ASTM Data 
Technical Information
Value
ASTM/ INDIAN Standards
Water absorption, % by weight
0.25
C-97
Density (Bulk specific gravity)
2.65
C-97
Modulus of rupture, N/ mm2
Dry-11

Wet-15

C-99
Compressive Strength N/ mm2
Dry - 117
Wet - 100
C-170