Golden Beach Granite
GOLDEN BEACH GRANITE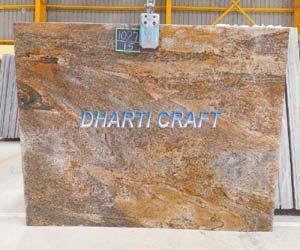 Golden beach granite  has a gold back-ground, with a mixture of light brown wavy structure in some part of the granite. It has a golden background with black and brown speckles present on the surface.  These granite counter tops provide a complete visual retreat to the kitchens and bathrooms.  Golden beach granite slab  is best for flooring tiles and for any interior or exterior. Presently Madurai Gold Granite quarries are closed due to Govt. Orders and this is not available, peoples are eager to buy Golden beach Granite Slab which looks more interesting and a brilliant color.
Golden beach Granite slab / tiles carry with it beautiful color, smooth texture and perfect finish which give it a royal touch. These granite counter-tops are extremely popular in the interiors of new age kitchens and bathrooms.  Apart from its use as countertop, its warm, neutral color really soothes your eyes.
Golden beach Granite is best for flooring tiles, Kitchens, counter tops, wall tiles, Columns or any interior and exterior designs.
DHARTI CRAFT, INDIA is an Exporter & Supplier of Golden Beach polished, leather Granite Slabs & Tiles, Golden beach Slabs, Golden beach Tiles, Golden beach Gold Granite 10mm Calibrated Beveled Tiles,  Golden beach Polished  300x200cm big slabs from India. Indian Gold  Granite.
Buy Golden beach granite slab from us. We assure best quality golden beach granite slab.
Specifications of Golden Beach Granite
Classification
Granite
Offered in
Block, Slabs & Tiles
Finishes 
Polished, Honed, Leather/Satin, flamed/fired, Shotblast
Standard Specifications
Random Slabs of 18mm, 20mm and 30mm Thick.
 

Polished, Calibrated & Beveled Tiles of 10mm Thickness.

305x305x10mm

610x305x10mm

400x400x12mm

 

Cut to Size Tiles 18mm, 20mm and 30mm thick.

300x300 / 300x600 / 600x600mm.

Tailor-Made Specifications
Possible
Recommended Applications
Interior & Exterior
Delivery
 4 weeks
Technical Data Golden beach Granite
Technical Specification Data of Golden Beach Granite

| | |
| --- | --- |
| Density | 2700 Kg/cm2 |
| Comp. Strength  | 165.98 N/mm2 |
| Ultimate Tensile Strength | 274 Kg/cm2 |
| Flexural Strength | 9.16 N/mm2 |
| Water Absorption | 0.15% |
| Impact Test-Min Fall Height | 60cm |
| Specific Gravity | 2.650 Kg/m3 |
| Hardness (Moh's Scale) | 5.0 |
Technical ASTM Data
Technical Information
Value
ASTM/ INDIAN Standards
Water absorption, % by weight
0.15
C-97
Density (Bulk specific gravity)
2.65
C-97
Modulus of rupture, N/ mm2

Dry-11

Wet-15

C-99
Compressive Strength N/ mm2
Dry - 117
Wet - 100
C-170