GOLDEN SLATE STONE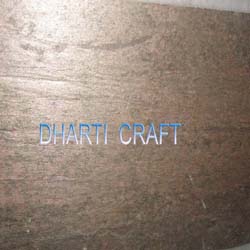 Golden slate stone tile / quartzite is a beautiful slate / quartzite is easily identified by its beautiful shades of metallic light magenta, yellow & orange. It is a visual treat to the eyes thus giving a bold statement to any interior & exterior decor. The bright colors of the stone lightens up the interiors and can enhance the brightness in any light living spaces. The vibrant colors and unique texture make Golden slate stone tile / quartzite tiles / slabs perfect choice for interior applications. Due to mica content in the Golden slate stone tile / quartzite stone the natural sheen that it carries is simply unmatched and beautiful.
The color variation that Honed Golden slate shall be as its natural ones: it shall exhibit gold and gray with a tendency to veer to greens or orange.
DHARTI CRAFT  recommend to seal the tiles with good sealer for long life and maintenance free.
Protection, durability and beauty are just a few of the features of slate. Being a good conductor of heat slate is ideal in any area. Golden Slate Stone is best suitable of wall tiles in interior and floor tiles as well for a golden look to the area with an exclusivity. Golden color is rarely available in tiles and that is why the demand is always and architects like to use to enhance the special area with golden theme. The best Golden Slate stone from India.
DHARTI CRAFT, INDIA is an exporter and supplier of Golden Slate stone tile, Natural slate tile, slate wall tiles, Natural slate floor tiles, Indian slate stone and Quartzite tiles in various size and finishes.
Looking for more stone available colors. Visit our stone gallery.
Specifications
Classification
Slate Origin India
Quarry Deposit
Layered
Quarry Excavation
Hand split layers
Chisel Splitting
Possible
Gangsaw Sawing
Not possible
Offered In
Tiles, Slabs, cut to size
 
Both faces natural
 

 Calibrated Back tiles:-

1) Natural cleft finish

2) Honed/Polished finish.

 

Tailer Made Specifications
Possible
Carved Articles
Not possible
Recommended Applications
Interior and exterior
Suitability
Medium to Low Traffic
Consistency
Multicolor
Fragility
Sound
Delivery
4 weeks