Rainforest Pebbles Green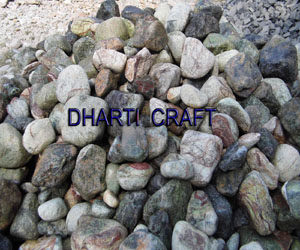 A processed Pebble  or Rainforest pebbles is a clast of marble with a particle size of 10 to 100 mm based on the scale of sedimentology. In addition Marble Pebbles are available in the size between 30 to 80 mm. Rainforest pebbles is processed from green color Rainforest marble.
Natural stone pebbles are of two types.
1) River Pebbles :- River pebbles are natural stone pebbles collected from the river shores and shorted for color and sizes.
2) Natural stone processed pebbles :- Processed stone pebbles are prepared by machines with natural stones. i.e. White marble, Rainforest marble, Green or Brown.

Marble Pebbles are processed in various colors, like White Pebbles, Rainforest pebbles in brown and green color. In addition Marble pebbles are processed as smooth finish pebbles and also another as Polished pebbles. Furthermore Smooth marble pebbles are used as garden pebbles, garden pavings, decorative pebbles, fountain pebbles. Polished Marble pebbles are fine polished pebbles and therefore used as decorative pebbles for interior.
River pebbles and Natural processed stone pebbles are distinct in their geological formation and appearance.
Applications of Rainforest Pebbles:-
Natural stone, processed pebbles,  Rainforest Pebbles are used for a variety of purposes, both outdoors and indoors. Furthermore They can be sorted by color and size. In addition they can be polished to improve the texture and color. Outdoors, beach and River pebbles are often used for landscaping, construction and as decorative elements.
Marble pebbles are often used to cover walkways and driveways, around pools, in and around plant containers, on patios and decks. In addition pebbles are also used to create water-smart gardens in areas where water is scarce. Small pebbles are also used to create living spaces and gardens on the rooftops of buildings. Indoors, pebbles can be used as bookends and paperweights.
Suppliers of Rainforest Pebbles, Garden Pebbles:-
Dharti Craft is Supplier, wholesaler and factory of Rainforest Pebbles, Garden Pebbles, Green Pebbles and Marble Pebbles. Please contact us for your requirements of decorative pebbles, landscaping pebbles. Click here.