INDIAN SANDSTONE COLUMNS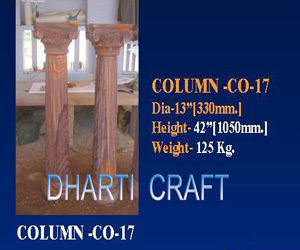 Indian Sandstone Columns / Stone Pillars - DHARTI CRAFT offer a vide range of Stone Columns made of Teak Sandstone (Light Yellow Sandstone), Rainbow Sandstone (Rainbow type mix wavy pattern), Mint Sandstone (White base color), Beige Sandstone, Red Sandstone  in various size and designs as per customer specifications.
Our exclusive carved Stone Pillars are rare piece of craftsmanship. All the Columns are carved especially under the guidance and quality control of skilled artisans to offer an exclusive range to the buyer for their full satisfaction and meet the standards of their requirement. We offer them in various designs. Our range of stone Columns enhances the decoration of any building entrance, home, museums and other areas. 
Our Sandstone columns are inspected finally after preparation for all the specifications as per buyers requirement specifications. Once the inspection passes the desired specification requirements. We plan for the perfect packaging so that the Sandstone column will be delivered intact to to the buyer.  We take proper safety while loading and unloading this stone article and advise our buyers to also take care while unloading. Once the Sandstone column is installed perfectly if adds to the beauty of the area and a feeling of luxury.
Protection:- We recommend to apply a good quality sealer for protection of Sandstone columns for long life, easy dusting and maintenance.
Sandstone Columns Applications :- 
Indian Sandstone Columns are used mostly in front of any  building or interior areas of  home or building to decorate the interior and exterior and give a touch of luxury and natural feeling.
Hollow Stone Pillars / Columns or Solid Stone Columns
DHARTI CRAFT is an Exporter and Supplier of Indian SandStone Pillar / Columns from Rajasthan,  India. We assure best craftsmanship as per designs.
Contact us for your requirement of Stone columns. CLICK HERE.