Ivory Brown Granite
IVORY BROWN GRANITE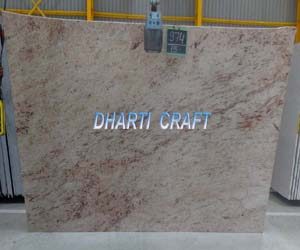 Ivory Brown Granite is also known as Shivakashi Brown Granite, one of the most popular granite used. It has a creamish background with brown and grey speckles present on it. Due to its richness in color it is hugely appreciated in the construction world.  Ivory Brown granite slabs are widely used for indoor & outdoor applications. Ivory Brown Granite is a soothing blend of light grays mixed with peach, burgundy, and accented with quartz clusters. Its tranquil and calm palette compliments a variety of design style; perfect for your kitchen counter tops and bathroom vanities Apart from being versatile, there are some excellent characteristics. 
Sivakasi Brown unique and essential color tone makes it a different from other granite products. It's bright color is perfect for kitchen tops, bathroom panels, counter tops. A kitchen with Ivory or Shivakashi Brown Granite is an extremely comfortable place where you can cook. This type of granite would protect your kitchen from extreme temperature, as it can withstand any season and temperature. Ivory Brown is great choice for floor tiles, counter tops, bathroom vanities and fireplace.
DHARTI CRAFT, INDIA is an Exporter Supplier of Ivory Brown Polished leather Granite Slabs & Tiles, Ivory Brown Slabs, Shivakashi Brown Tiles, Shivakasi Yellow 10mm Calibrated Beveled Tiles, Ivory Brown Small Slabs, Ivory Brown Big Slabs 300x200 from India. Indian Ivory Brown Granite.
Reach us for your requirement of Indian Granites. Click here.
Also visit our Blog page for your support of selection. How to Select.
Specifications of Ivory Brown Granite
Classification
Granite
Offered in
Block, Slabs & Tiles
Finishes 
Polished, Honed, Leather/Satin, flamed/fired, Shotblast
Standard Specifications
Random Slabs of 18mm, 20mm and 30mm Thick.
 

Polished, Calibrated & Beveled Tiles of 10mm Thickness.

305x305x10mm

610x305x10mm

400x400x12mm

 

Cut to Size Tiles 18mm, 20mm and 30mm thick.

300x300 / 300x600 / 600x600mm.

Tailor-Made Specifications
Possible
Recommended Applications
Interior & Exterior
Delivery
 4 weeks
Technical data Ivory Brown Shivakasi Yellow
Technical Data Ivory Brown Granite
Technical Information
Value
ASTM/ INDIAN Standards
Water absorption, % by weight
0.15
C-97
Density (Bulk specific gravity)
2.65
C-97
Modulus of rupture, N/ mm2

Dry-11

Wet-15

C-99
Compressive Strength N/ mm2
Dry - 117
Wet - 100
C-170