MINT SANDSTONE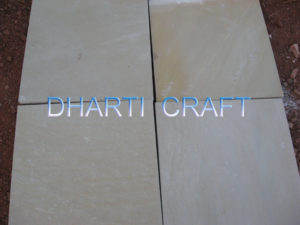 Mint Sandstone is available in Natural Split face, Sawn, Honed or Sandblasted finishes. It is also available in pool coping and step tread formats. This sandstone is strong and  ideal for use in exterior courtyards, patios and landscaped areas. Himalayan Sandstone tiles can also be used as a wall cladding finish.
Honed finish results from the natural finish tiles being polished to give a smooth surface, free of any irregularities. The color becomes much more even, when wet there may be it bit of underlying color showing. Mint Sandstone is especially useful in exterior cladding in sea shore buildings due to acid and thermal resistant properties. The effect of saline winds is negligible on Mint Sandstone. Mint white Sandstone Circle stones can create a fantastic focal point within a garden either on its own or as a feature area within a patio.
Applications of Mint Sandstone Paving :-
Mint White Sand stone is suitable for use as Flooring, wall cladding and exterior Landscapes due to its physical and chemical properties. It has a very smooth natural split surface. It is also suitable for carving and making stone handicrafts. Mint White Sandstone is available in various finishes such as natural cleft, polished, honed, bush hammered, sawn, acid washed, antique finish and sand blasted to suit different applications. The finish and smoothness of tiles and slabs of sandstone depends on the finish of edges, which is available in machine cut sawn, hand chiseled, hand dressed and chamfered, bevelled. The edges play a major role in the overall appearance of the architecture.
Mint white Sandstone also called as Tint Mint Sandstone. It is beautiful natural Sandstone with a mixture of greenish yellow and buff colors with natural tones and shades, Tinted Mint paving blends, patio pack paving in any surrounding. The individual characteristics of hand quarried natural stone, each piece has its own unique look and may vary in color, texture and thickness from other pieces of the same type of stone. There is a variation in surface texture, from being reasonably smooth whilst others have a bit of a split finish and irregular layers. Mint white sand stone tiles remain non-slippery even when wet.
Wholesale Supplier of Mint Sandstone paving:-
DHARTI CRAFT -  We are exporters and  suppliers of mint white sandstone, mint sand stone paving, pure mint sandstone,
polished mint sandstone, tint mint sandstone, sawn mint sandstone paving 600x600,  paving slabs, patio slabs, paving stones
from India. 
Reach us for your questions, clarifications or orders. Click here.
Specifications

Classification
Indian Sandstone
Quarry Deposit
Compact
Quarry Excavation
Block
Chisel Splitting
Not Possible
Gang Saw Sawing
Possible
Offered in
Blocks, Slabs & Tiles
Finishes Offered
Sawn, Honed & Shotblast
Standard Specifications

Random Slabs 2cm and 3cm thick

Size 200x100cm plus 

 

Cut to size tiles 20mm and 30mm Thick
30 x 30 / 60 x 30 / 40 x 40 / 60 x 40cm
60 x 60 / 60 x 90cm

Custom size also available.

Tailor-Made Specifications
Possible
Carved Articles
Possible
Recommended Applications
Interiors & Exteriors
Suitability
Medium to low traffic.
Consistency
Fair
Fragility
Sound
Delivery
4 to 6 weeks