MOTHER OF PEARL YELLOW MOP TILES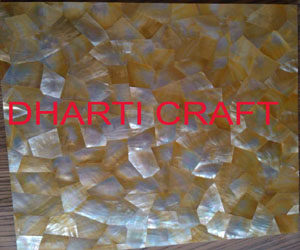 Mother of Pearl Yellow Tiles, MOP Tiles is a Semi precious Gemstone. It is prepared from small lumps of Yellow MOP with the help of latest Adhesives. The Polish quality of Yellow MOP is  Superior. Mother of Pearl slab and tile is used for decoration interiors. Yellow MOP is a soft stone and we use Marble or Acrylic backing to support the stone tiles or slab. Dharti Craft Process Yellow MOP in Tiles, Slabs or customized dimensions. Dharti Craft is a quality Manufacturer and exporter of  Mother of Pearl White and Yellow stone slabs tiles and any customized sizes. The Mother of Pearl Yellow Tiles, stone slabs are available in different size and beautiful color White and Yellow. Dharti Craft, offer superior quality Mother of Pearl Tiles White, Mother of pearl Tiles yellow, semi precious stone slabs, gem stone slab in various colors.
Mother of pearl Yellow Tiles, MOP Tiles reflects the lights and prepare a very luxurious environment when is the installed. It is there used in luxury Hotels, Buildings, Apartments, Villas and High end projects.
We used premium quality lumps and adhesives with advance technology to deliver the best quality Agate stones slabs tiles, Agate stone counter tops, Agate Stone Sinks, Agate Sinks, Tiger eye Sinks etc.
Specialities :-
Semi precious stone slabs and tiles includes Red Agate slabs, Black Agate Slab, White Agate Slab, Brown Agate Slabs, Wild Agate Slab, Yellow Agate stone slab, Mix Agate stone slabs, Grey Agate stone slabs tiles, Crystal Agate stone slab, Blue Agate stone counter tops, Blue agate display panels, Red agate stone slabs, Pink agate stone slabs, Black Agate stone slabs, Purple agate stone slabs. Semi precious quartz slabs in White, Inlaid Marble Carpet, Pink rose and Smoky colors. Amethist Stone slabs, White mother of Pearl, Black Mother of Pearl slabs, Yellow Mother of Pearl slabs tiles and Mother of pearl interior designs.
Buy Mother of pearl yellow tiles from Dharti Craft, we assure best mother of pearl tiles price.