Paradiso Classic Granite
PARADISO CLASSIC GRANITE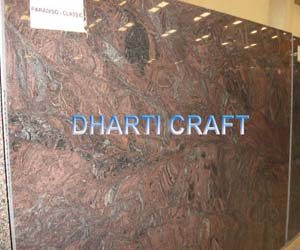 Paradiso Classic Granite or Paradiso Classic is a grey burgundy Granite from India. Its smooth finishing offers a classically elegant feel to the applicable area. Paradiso Classic granite have variety as some lighter and some darker and has a lot of movement. Paradiso classico is a hard and dense granite. So it's a great granite color for outdoor applications, even in areas with freeze/ thaw conditions. The look of this granite is dark in color, with gray and violet miniature spots.  Paradiso Classic Granite is suitable for indoor and outdoor applications. 
DHARTI CRAFT, offer Paradiso classic granite stones that are extracted from some of the best quarries in Krishnagiri, Tamil Nadu, India. These stones are hard and hence sturdy. Paradiso classico granite is durable; wear proof; scratch, moisture, mold and heat resistant and requires very little maintenance. These granites make an excellent choice for kitchen-tops, counter-tops, table-tops and walls & floorings. Paradiso Classico granites different finishes: Polished, Honed, Flamed/fired,  Leather/ Satin.
DHARTI CRAFT, INDIA is an Exporter Supplier of Paradiso Classico Slabs & Tiles, Paradiso classic Slabs, Paradiso Classic Tiles, Paradiso Classic 10mm Calibrated Beveled Tiles, Paradiso Classico Small Slabs, Paradiso Classic Big Slabs 300x200 from India. Indian Paradiso Classico Granite.
Reach us for your requirement of Indian Granites. Click Here.
Specifications of Paradiso Classic Granite
Classification
Granite
Offered in
Block, Slabs & Tiles
Finishes 
Polished, Honed, Leather/Satin, flamed/fired, Shotblast
Standard Specifications
Random Slabs of 18mm, 20mm and 30mm Thick.
 

Polished, Calibrated & Beveled Tiles of 10mm Thickness.

305x305x10mm

610x305x10mm

400x400x12mm

 

Cut to Size Tiles 18mm, 20mm and 30mm thick.

300x300 / 300x600 / 600x600mm.

Tailor-Made Specifications
Possible
Recommended Applications
Interior & Exterior
Delivery
 4 weeks
Technical information granite
Technical ASTM Data Pradiso Classic Granite
Technical Information
Value
ASTM/ INDIAN Standards
Water absorption, % by weight
0.15
C-97
Density (Bulk specific gravity)
2.65
C-97
Modulus of rupture, N/ mm2

Dry-11

Wet-15

C-99
Compressive Strength N/ mm2
Dry - 117
Wet - 100
C-170