Rainbow Sandstone
RAINBOW SANDSTONE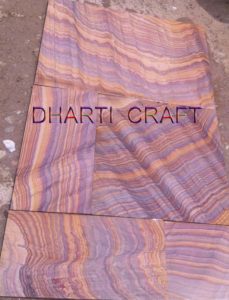 "The Rainbow Sandstone is beautiful, Multicolor, wavy pattern Sandstone. It is used for a classic upliftment of any surrounding, rather landscape or Interiors. Especially, The wavy pattern and soft, multi-layered hues of Rainbow Sandstone paving will make a stunning focal point in any garden. Hence, Rainbow Sandstone is perfect for producing various Stone Facade, Stone artifacts, planters or for the  water fountain."
Applications:- Especially Sandstone is widely used in Construction and decoration of building interior and exterior.
Is Rainbow sandstone available in natural split surface:-
No, Rainbow Sandstone do not have the tendency to split naturally and therefore it is sliced with machines.
What Sizes of Rainbow sand stone are manufactured or processed:-
Rainbow sandstone is manufactured for Wall Tiles.  Starting especially from 300 x 300 paving slabs to 600 x 900 mm or customized sizes. In addition, It is processed in slab of 2cm and 3cm thickness. Furthermore, Small Slab sizes are 200 x 100 cm plus and Big slab sizes are 240 x 120 cm plus.

Finally, How many shades are available in Rainbow sand stone:-
Rainbow is basically Burgundy color stone with violet and brown waves. Especially Natural stone has variation in color. The texture and color pattern changes from quarry to quarry.
Rainbow sandstone applications:-
Rainbow Sand stone is therefore used in Home décor as Tiles for wall cladding, Countertops, Pebbles, Mosaics. In addition Statues, Balls, Fencing Jallies, Water fountains and many decorative items.
What are the finishes available in Rainbow Sandstone:-
Especially Rainbow Sand stone is available in Honed, polished finish. In addition  Tumbled finish, Shotblast and Brushed finish.
Suggestions on Rainbow Sandstone:-
Rainbow sandstone is a soft stone and it is not recommended to use especially on Public walk ways or heavy traffic areas on floors. We further recommend to seal it with good sealer for very low maintenance.
Best Suppliers Rainbow Sandstone from India:-
DHARTI CRAFT -  We are exporter, quarry owner and supplier of Rainbow sandstone. In Addition Indian sandstone paving,  rainbow paving slabs and rainbow wall tiles from India. Certainly Rainbow stone is available in six side sawn finish. It can be processed for Honed finish sandstone tiles, Sanded tiles. In Addition other finishes and styles of sandstone for applications like exterior and interior elevations. Garden stones, water fountains, balls, Gazebos, Jallies, Stone sculptures are processed with Rainbow stone  origin of India.
We further also supplies Rockface sandstone / Rainbow Wall tiles and ledgestone.  Hence Click Here  to send us your requirements.
Specifications

Classification
Sandstone Origin India
Quarry Deposit
Compact
Quarry Excavation
Block
Chisel Splitting
Not Possible
Gang Saw Sawing
Possible
Offered in
Blocks, Slabs & Tiles
Finishes Offered
Sawn, Honed & Shotblast
Standard Specifications

Random Slabs 2cm and 3cm thick

Size 200x100cm plus / 240x120cm Plus

 

Cut to size tiles 20mm and 30mm Thick
30 x 30 / 60 x 30 / 40 x 40 / 60 x 40cm
60 x 60 / 60 x 90cm

Custom size also available.

Tailor-Made Specifications
Possible
Carved Articles
Possible
Recommended Applications
Interiors & Exteriors
Suitability
Medium to low traffic.
Consistency
Fair
Fragility
Sound
Delivery
4 to 6 weeks