Rainforest Brown Marble
Rainforest Brown Marble Slab & Tiles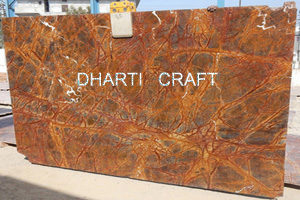 The Rainforest Brown Marble is also popularly known as мрамор Bidasar Brown. Especially Rainforest Brown Marble has light to medium brown hues of color with tree branch looking veins of dark brown  with accents of white. Furthermore Brown Marble is known for exclusive appearance and great texture. Certainly rainforest marble improves the aesthetics of any interior and exterior.
Characteristics in veining and movement vary between lots depending on different blocks from which the stone is extracted. This characteristics makes the Rain forest Brown marble slabs  book-matched, in which slab one and slab two will be cut and polished to create a mirror image of each other. These are then kept in sequence, which allows for a consistent flow in pattern. As a natural stone product, it is recommended that this should be sealed to extend its life.
Applications of Rainforest brown marble:-
We offer Rain forest Brown Marble polished for decorating buildings or installation in residential as well as in commercial buildings. This marble can also be used for Kitchen, Vanity, Table tops etc.  Rainforest brown marble is available in different finishes like Honed, Sawn, Sand Blasted, Polished, Leather, brushed antique etc.
Rainforest Brown Marble Suppliers :-
DHARTI CRAFT is a leading supplier of Rainforest brown marble slab, brown marble tile,  bidasar brown  and forrest brown from India. We are also Brown Marble Slabs & Tiles Exporter.
Looking for Marble slab and tile colors. Visit our Stone Gallery.
SPECIFICATIONS

| | |
| --- | --- |
| Classification | Marble Indian Origin |
| Offered  | Slabs, tiles and Blocks |
| Finishes  | Sawn, Honed, Polished, Shotblast, Leather. |
| Standard Dimensions | Slabs 2cm and 3cm thick. |
|   | Calibrated & Bevelled Tiles 10mm |
|   | 305x305mm / 305x610mm |
|   | Cut to Size Tiles of 2cm thick. |
|   | 30x30cm, 30x60cm, 60x60cm. |
| Tailor Made Specifications | Possible |
| Recommended Applications |  Interior & Exterior (Shaded) |
| Suitability | High Traffic |
| Consistency | High |
| Fragility | Sound |
| Delivery | Fast |
| Packaging | Wooden Crate / Pallets |