Raj Black Granite
RAJ BLACK GRANITE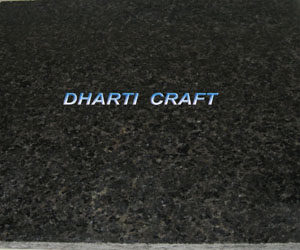 Raj Black Granite  also popularly known as Rajasthan Black Granite / Bhilwara Black or Black Beauty Granite. The Black granite is naturally endowed with all the properties of granite stone that are essential for the layouts like durability, scratch free, moisture resistant and Low maintenance. Raj Black  is dark colored granite with flower of grey. Raj Black is not only used for residential purposes but for commercial projects as well. Raj Black Granite tiles and slabs are widely used for flooring, Kitchens, cladding and various other interior and exterior purposes. 
Black Beauty Granite is resistance to high temperature and its smoothness and naturally flamed or fired look is popularly used in outdoor / exterior flooring in heavy traffic areas.
Raj Black  or Black Beauty Granite is a beautiful Black color granite with its origin in Rajasthan State of India.
DHARTI CRAFT, INDIA is an Exporter Supplier of Raj. Black Slabs & Tiles, Raj Black Granite Slabs, Black Beauty Tiles, Raj Black 10mm Calibrated Beveled Tiles, Raj Black Small Slabs, Raj Black or Black Beauty Big Slabs 300x200 from India. Indian  Black Granite.
Reach us for your requirements of Black Granite from India. Click here.
Specifications of Raj Black Granite
Classification
Granite
Offered in
Block, Slabs & Tiles
Finishes 
Polished, Honed, Leather/Satin, flamed/fired, Shotblast
Standard Specifications
Random Slabs of 18mm, 20mm and 30mm Thick.
 

Polished, Calibrated & Beveled Tiles of 10mm Thickness.

305x305x10mm

610x305x10mm

400x400x12mm

 

Cut to Size Tiles 18mm, 20mm and 30mm thick.

300x300 / 300x600 / 600x600mm.

Tailor-Made Specifications
Possible
Recommended Applications
Interior & Exterior
Delivery
 4 weeks
Technical ASTM Data
Technical ASTM Data Raj Black Granite
Technical Information
Value
ASTM/ INDIAN Standards
Water absorption, % by weight
0.12
C-97
Density (Bulk specific gravity)
2.65
C-97
Modulus of rupture, N/ mm2

Dry-11

Wet-15

C-99
Compressive Strength N/ mm2
Dry - 117
Wet - 100
C-170