SEMI PRECIOUS STONE SLABS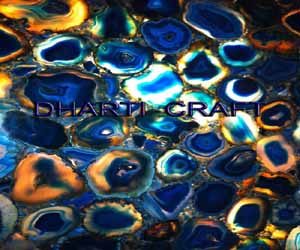 Semi Precious Stone Tile is a gift of nature, Semi precious stone slabs and tiles are available as Agate Stones, Mother of Pearl, Amethist, Tiger eye, Quartz etc.  DHARTI CRAFT  is a reputed  Manufacturer, Supplier and exporter of Agate stone slabs tiles and any customized sizes. The Agate stone slabs are available in different size and beautiful colors. Dharti Craft, offer superior quality Agate stone slabs, semi precious stone slabs, Mother of Pearl stone slabs, Amethist, Tiger Eye, Quartz Slabs, Gem stone slab in various colors.
Agate is a banded form of finely-grained, microcrystalline Quartz. The lovely color patterns and banding make this translucent gemstone very unique. Agates can have many distinctive styles and patterns, but each Agate is unique in its own habit with no two Agates being the same.
Dharti Craft offers wide range of Semi precious stone slabs and tiles includes Red Agate slabs, Black Agate Slab, White Agate Slab, Brown Agate Slabs, Wild Agate Slab, Blue Agate stone slab, Mix Agate stone slabs, Grey Agate stone slabs tiles, Crystal Agate stone slab, Blue Agate stone counter tops, Blue agate display panels, Red agate stone slabs, Pink agate stone slabs, Black Agate stone slabs, Purple agate stone slabs. Semi precious quartz slabs in White, Pink rose and Smoky colors. Amethist Stone slabs, White mother of Pearl, Black Mother of Pearl slabs, Yellow Mother of Pearl slabs tiles and Mother of pearl interior designs.
Agate stone slabs are translucent and that is why these are also used as backlit to enhance the beauty of stone and area with floral lights.
We used premium quality lumps and adhesives with advance technology to deliver the best quality Agate stones slabs tiles, Agate stone counter tops, Agate Stone Sinks, Agate Sinks, Tiger eye Sinks etc.
Semiprecious stone Specialization:-
Semi precious stone sinks, Brazilian agate slabs, Tiger eye sinks, Semi precious stone slabs, Gemstone slabs, Crystal stone slabs, Amethyst stone slabs, Blue Agate , Agate slabs, Agate stone slabs, Onyx slabs,  Quartz Slabs, Quartz stone slabs, Mother of pearl, stone crafts, Inlay Tabletops, Counter tops, Centre Tables, conference tables, Dining tables, coffee counters, Marble inlay handicrafts, Handicrafts India, marble inlay handicrafts exporters, marble inlay tiles, Inlaid tile manufacturers, Artistic flooring, Artistic floor borders,  marble inlay borders, Marble Carpet, Marble Designer Floors Interior.
Buy semi precious stone  tile  or semi precious stone slabs from us, we assure best price gemstone slabs and best quality.
Agate stone tile Specifications 

| | |
| --- | --- |
| Chemical Formula | SiO2 |
| Color | White, Blue, Red, Green, Yellow, Orange, Brown, Pink, Purple, Black, Multicolored. |
| Hardness | 7 |
| Crystal System | Hexagonal |
| Refractive Index | 1.54 to 1.55 |
| SG | 2.63 to 2.65 |
| Transparency | Translucent |