SHIMLA WHITE  QUARTZITE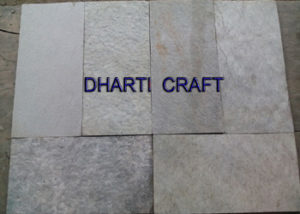 Shimla White quartzite / slate is a fissionable light grey to nearly white displaying hues of green tones slate & is very hard. It is highly durable and brittle in texture, Shimla White Quartzite / slate is highly accepted and appreciated for its snow capped appearance that it lends to the elevated building.
Shimla White quartzite / slate find its usage in a variety of interiors and exterior applications.
We are pleased to offer our clients shimla white quartzite / slate in various sizes in accordance with their specifications at reasonable prices. These stones are perfectly used in offices, hotels, restaurants and abodes that add elegance and splendor to interiors. Shimla White slate / quartzite works well with most other colors as it illuminates and reflects the energy of the colors of the surroundings.
DHARTI CRAFT, INDIA Exporter & suppliers of Shimla White Quartzite, Slate Stone Tile, natural slate tile, slate wall tiles, natural slate floor tiles and Indian Slate Stone. We recommend to seal the tiles with good sealer for long life and maintenance free.
Protection, durability and beauty are just a few of the features of slate. Being a good conductor of heat slate is ideal in any area.
Shimla white is a great choice in white color of slate quartzite tiles, mosaics, wall panels, ledge stone. This hard and brittle quartzite is best recommended for white slate choice for your home decor and interior as well as exteriors.
Reach us for your requirements. Click here. Visit other available color of stones in our Stone Gallery.
Specifications
Classification
Slate Origin India
Quarry Deposit
Layered
Quarry Excavation
Hand split layers
Chisel Splitting
Possible
Gangsaw Sawing
Not possible
Offered In
Tiles, Slabs, cut to size
 
Both faces natural
 

1)One face natural, back Calibrated

2)One face Brushed - back Calibrated.

Tailer Made Specifications
Possible
Carved Articles
Not possible
Recommended Applications
Interior and exterior
Suitability
Medium to Low Traffic
Consistency
Multicolor
Fragility
Sound
Delivery
4 weeks