Stone  Handicrafts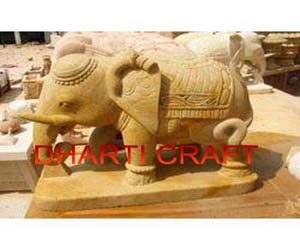 DHARTI CRAFT offer a vide range of Stone Handicrafts in the form of Stone Statues, Stone Animal Statues, Stone Birds, Stone Frog, Stone flower pots, Stone Bird Bath, Stone vases, Stone lamps etc  made of Teak Sandstone, Rainbow Sandstone, Mint Sandstone, Beige Sandstone, Red Sandstone  if various size and design as per customer specifications.
Our exclusive carved Stone Handicraft Articles are a rare piece of craftsmanship. All the Stone Articles are carved especially under the guidance and quality control of skilled artisans to offer an exclusive range to the buyer for their full satisfaction.  We offer them in various designs. Our range of stone Articles enhances the decoration of exteriors or gardens, home, buildings, museums and other areas. 
Stone  Handicrafts  Applications :- 
Interior Stone Articles like Stone Animals, Stone Birds, Stone Vases, Stone flower pot, Stone vases, Stone Statues etc. are used in home or building to decorate the interior and give a touch of luxury and natural feeling.
Exterior Stone Articles are Bird Bath, Garden Flower Pots, Garden Planters, Stone Animals, Stone Frogs, Stone Birds, Stone Benches etc. are used in big building exteriors, Parks, Gardens to enhance the beauty of the surrounding.
DHARTI CRAFT is an Exporter and Supplier of Stone Handicrafts or Water fountains from India. We assure best craftsmanship.
Please reach us for your requirements. CLICK HERE.