TAN BROWN GRANITE TILES INDIA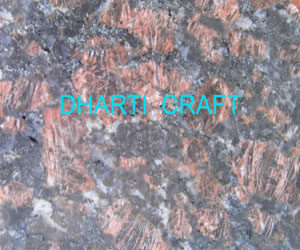 Tan Brown Granite Tiles India is a consistent granite with a  dark blue and brown background with chocolate brown flowers.  Tan Brown Granite Tile India worktops have an inherent richness which will add a touch of glamor and elegance to any kitchen. Tan Brown Granite Tiles India is set on a dark brown background with contrasting burnt orange and black crystals.
Tan Brown Granite  is a granite material that is considered effective in bringing out the beauty of your kitchen.
Tan Brown is a fascinated Granite. Kitchen favorite Granite due to its appearance.  Architects and your guests will highly appreciate your newly decorated kitchen with Tan Brown Granite.
No wonder, this is one of the most favorite granite item of homeowners not just in United States, United Kingdom, Russia, Poland, Germany, Mexico,  Australia, but also in other parts of the world.
DHARTI CRAFT, INDIA is an Exporter Supplier of Tan Brown granite tiles India, Slabs & Tiles, Tan Brown Tiles, Tan Brown Steps & Risers, Tan Brown Calibrated & bevelled tiles. Polished Tan Brown Big Slabs 300x200 from India. Buy Tan Brown Granite Tile from us, we assure best price Tan brown Granite Tile from India.
Buy Tan Brown Granite Tile. Contact us for your requirement and best price Tan Brown Granite tiles, Slabs big or small height, Steps or risers.
Specifications of Tan Brown Granite Tile
Classification
Granite
Offered in
Block, Slabs & Tiles
Finishes
Polished, Honed, Leather/Satin, flamed/fired, Shotblast
Standard Specifications
Random Slabs of 18mm, 20mm and 30mm Thick.
Polished, Calibrated & Beveled Tiles of 10mm Thickness.

305x305x10mm

610x305x10mm

400x400x12mm

Cut to Size Tiles 18mm, 20mm and 30mm thick.

300x300 / 300x600 / 600x600mm.

Tailor-Made Specifications
Possible
Recommended Applications
Interior & Exterior
Delivery
 4 weeks

Technical Specification Data of Tan Brown

| | |
| --- | --- |
| Compressive Strength | 2706 Kg/M3 |
| Compressive  Strength | 181.83 N/mm2 |
| Flexural Strength | 7.34 N/mm2 |
| Modulus of Rupture | 11.28 N/mm2 |
| Water Absorption | 0.11% |
| Impact Test-Min Fall Height | 68cm |
| Specific Gravity | 2.72 Kg/m3 |
| Hardness (Moh's Scale) | 6.2 |