Teakwood Sandstone
TEAKWOOD SANDSTONE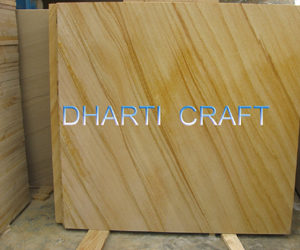 The Wood color Stone Teakwood sandstone.  Especially the grain of the wood for which it is named, with deep and pale, sandy golds. Furthermore Yellow Teak Sandstone is  Yellow Sandstone which similarly resembles with Teak Wood and therefore the name. Especially Jaipur Teak stone Tiles is available in six side sawn finish. In Addition It can be further processed for Honed finish sandstone tiles and Shotblast / Sanded Sandstone tiles moreover in various other finishes and styles.
Relevent Applications of Teakwood Sandstone :-
Sandstone is widely used in Construction and decoration of building interior and exterior. Especially The best application like exterior and interior elevations. For Example Garden stones, water fountains, balls, Gazebos, Benches, Stone sculptures are therefore processed with Teakwood sandstone.
Quarries: - Especially Teak sandstone is a soft sandstone and further quarried and manufactured in Jaipur Rajasthan India.
Is Teakwood stone available in natural split finish?
No, Teakwood stone, do not have the tendency to split naturally. Therefore it is sliced with sawing machines in the form of sawn / smooth teak wood tiles and teak slab.
What Sizes of Teakwood  stone is manufactured  & supplied.
Teakwood is manufactured in Tiles Size 30x30cm to 60x90cm and customized sizes. Furthermore It is also processed in Big and small slabs especially in 2cm and 3cm thickness. In Addition Small Slab sizes are 200x100cm plus and Big slab sizes are 240x120cm plus.

How many shades are available in Teakwood Sandstone?
Teakwood is same as light yellow color stone. Especially available in light shade and dark shade with veins of brown color. In other words different quarry has different shade but the basic stone is same.
Teakwood sandstone decorative stones applications.
Teakwood stone is used especially in Buildings and Home décor as Tiles for wall cladding, Counter top, Table tops. In Addition Pebbles, Stone Mosaics, Wall Panels / ledgestone, Statues, Balls, Fencing, Benches, Outdoor fountains and many decorative items.
What are the finishes available in Teakwood  stone.
Teakwood Sandstone is especially processed in Sawn finish, polished finish, Shot blasted finish, Tumbled finish. In Addition Shot blast & Brushed finish known as leather.
Wholesale Supplier Teakwood Sandstone factory in India:-
DHARTI CRAFT -  Exporters, quarry owners and suppliers teak wood tiles,  teak slab,  teak tiles, Teakwood sandstone. In Addition  teakwood sandstone pavers, teak sandstone, teakwood stone and teak wood slab from India.
Probably you are satisfied with the details of the Teak slab & Teakwood stone. Consequently Send us your project requirements.
---
Specifications Teakwood Sandstone

Classification
 Indian Sandstone - Origin- India
Quarry Deposit
Compact
Quarry Excavation
Block
Chisel Splitting
Not Possible
 Sawing
Possible
Offered in
Blocks, Slabs & Tiles
Finishes Offered
Sawn, Honed and Shotblast
Standard Specifications
Random Slab 2cm and 3cm thick

Size 200x100cm plus / 240x120cm Plus

Cut to size tiles 20mm and 30mm Thick
30 x 30 / 60 x 30 / 40 x 40 / 60 x 40cm
60 x 60 / 60 x 90cm Custom size available.
Tailor-Made Specifications
Possible
Carved Articles
Possible
Recommended Applications
Interiors and Exteriors
Suitability
Medium to low traffic.
Consistency
Fair
Fragility
Sound
Delivery
4 to 6 weeks