WHITE MOTHER OF PEARL  TILE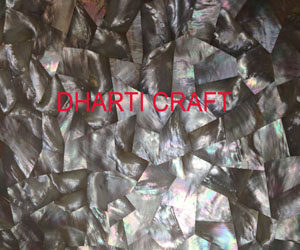 White Mother of Pearl  tiles India, Mother of pearl is also called as MOP in short. Mother of pearl is a Semi precious, Gemstone. In addition it is processed as tiles or slab / Panel for home decoration. Furthermore mother of pearl is used in decorative stones and jewellery stone. Especially as luxury decorative we use small lumps. Which is furthermore processed with Stone or Sheet backing to decorate the area. Especially White mother of pearl is pure and it is polished to a high gloss.
Applications of White Mother of pearl tile :-
The White mother of Pearl reflects the light in rainbow colors which give a special experience to the area. Mother of Pearl tile & slab looks wonderful when used in any interior decoration. Furthermore mother of pearl sheets are installed as random pattern or in any design like brick pattern. Especially being a decorative stone mother of pearl is used to give a luxury feeling. The rough pieces of white mother of pearl is furthermore pasted on any hard surface like, Almira Board. In addition to  Window Frame, Dinning Table, reception area, Countertops, Entrances, Lobby area, Bathrooms. Furthermore it is processed with high gloss polish to enhance the beauty. Finally White Mother of pearl installation gives a luxury feeling to the surrounding.
We used premium quality lumps and adhesives with advance technology to deliver the best quality White Mother of pearl tile and slab.
Further More Specialties on Decorative Stones:-
Mother of Pearl Tiles India, White MOP Slabs & Tiles, Mother of pearl plates,  mother of pearl slabs, gemstone countertops, gemstone panels, Semi precious stone slabs and tiles. In addition Agate stone slab, Blue Agate stone countertops, Blue agate display panels, Red agate stone slab, Pink agate stone slab, Black Agate stone slab,  Inlaid Marble Carpet,  Pink rose and Smoky colors. Amethist Stone slab,  Yellow Mother of Pearl slab tiles.
Manufacturer, Wholesaler of White Mother of pearl tile :-
Dharti Craft is a wholesale supplier of white mother of pearl tile from India. We manufacture a large variety of decorative stones for export supply. Buy mother of pearl tiles India from us, we assure you best price price mother of tiles India.