MINT YELLOW SANDSTONE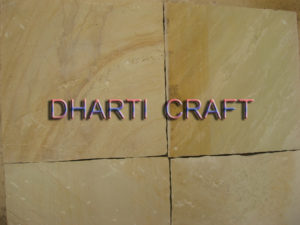 Yellow Mint sandstone color variations ensure that this product looks stunning in any application. Perfect for the almost any environment it offers warm, neutral colors that stay cooler in the heat of summer. Yellow Mint Sandstone  adds an unmistakable sense of style and warmth to your decor - just as nature intended. Mint Yellow Sandstone is well known for its strength, durability, texture and broad range of formats in which it can be provided, Yellow mint sandstone pavers add prestige and timeless elegance to any home or garden. With its natural texture and versatility, Mint Yellow Sandstone is a classic building material as sought after today as it has been throughout history.
DHARTI CRAFT INDIA accommodate any projects from wall claddings, pavings, interiors, patio stone and so on. Mint Yellow Sandstone is ideal for use in the following appliations:
Tiles, Coping stone or bullnose swimming pool coping, pavers,  lintel block steps for extra effect. Dry walling stone for small retaining walls. Wall cladding can be used for feature walls on houses, retaining walls, front fences, anywhere where a sandstone wall appearance is required. Stairs, garden edging, step treads, stepping stones, circle stones, patio packs, cubes.
Applications:- Sandstone is widely used in Construction and decoration of building interior and exterior.
Origin - Mint yellow Sandstone is origin of India.
Mint Yellow Sand stone is a beautiful warm and light yellow buff & ripened mango color sandstone, perfect for interiors as well as exterior applications that are in the darker parts of your home / garden to brighten the area. It is a very popular sandstone is a dense and hard wearing sandstone resistant to salt water besides providing a natural non slip surface that is low maintenance. Mint Yellow Sandstone can be used indoors or outdoors to great effect in conservatories as well as in main living areas.
There is a variation in surface texture, from being reasonably smooth whilst others have a bit of a split finish and irregular layers. The tiles remain non-slip even when wet.
DHARTI CRAFT -  We are exporter and supplier of Yellow mint sandstone, yellow sandstone paving, yellow paving slabs,  yellow patio slabs, Indian sandstone, paving slabs,  patio slabs and paving stones origin of India.
Specifications

Classification
Indian Sandstone
Quarry Deposit
Compact
Quarry Excavation
Block
Chisel Splitting
Not Possible
Gang Saw Sawing
Possible
Offered in
Blocks, Slabs & Tiles
Finishes Offered
Sawn, Honed & Shotblast
Standard Specifications

Random Slabs 2cm and 3cm thick

Size 200x100cm plus 

 

Cut to size tiles 20mm and 30mm Thick
30 x 30 / 60 x 30 / 40 x 40 / 60 x 40cm
60 x 60 / 60 x 90cm

Custom size also available.

Tailor-Made Specifications
Possible
Carved Articles
Possible
Recommended Applications
Interiors & Exteriors
Suitability
Medium to low traffic.
Consistency
Fair
Fragility
Sound
Delivery
4 to 6 weeks